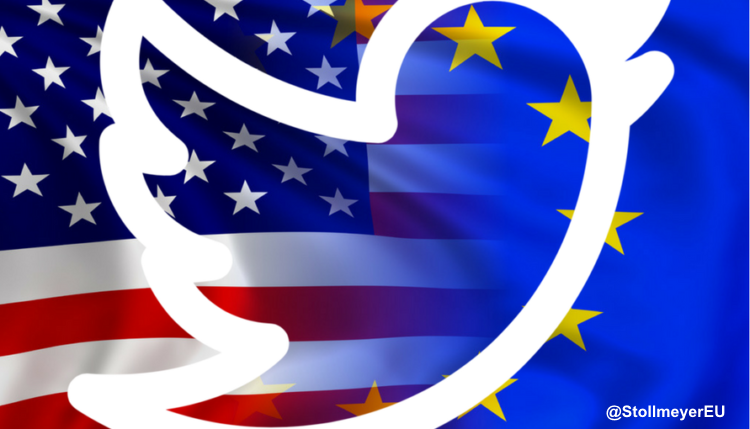 Digital political advocacy: my journey from the EU to the US to Transatlantic
Twitter can truly connect people. Proof: I am sharing what I told a Brussels' digital influencer event at the request of my American Twitter friends.
Ranked 18th in the league of digital EU influencers, I was asked to prepare a personal presentation in the form of five tweets. As a well-known Brussels' bubble tweeter (most people know me from the five years I influenced the EU energy & climate debate), I thought it would be a good idea to share how I got involved in the American political debate.
Most of my Brussels' audience knows me from tweets like this:
Will @EU_Commission's "#CleanEnergyEU" plans be CLEAN?

Let's hope they improved the drafts!#EnergyUnion #climatehttps://t.co/ywQEAbSpDD

— Alice St⭕️llmeyer (@StollmeyerEU) November 29, 2016
But from November 2016, I started tweeting and blogging more broadly about politics, democracy, human rights and digital developments. Not just in the European Union, but increasingly with an eye on what was happening in the United States. And before I knew it, just by being in the right place at the right time, I became part of some American twitter communities and got involved with the American political debate. First by creating two twitter lists of what I dubbed the 'Twistance' (Twitter + Resistance) movement, which went viral. Most of the rogue US government twitter accounts recommended my Twistance lists to their followers, and welcomed me to their #AltGov community – even giving me an endearing nick name.
Kudos to @Twitter for suing #US feds over request to unmask @ALT_uscis ! #Twitter + #TheResistance = #Twistance — Alice Stollmeyer (@StollmeyerEU)
Because I passionately care about what is happening to democracy, liberty, truth and the rule of law in the United States – because it affects us here in Europe too! – I passionately tweet about it. My new Twitter rythm from January 2017: starting with EU topics in the morning and switching to US topics mid-afternoon, often til late at night. My American audience appreciates my European perspective and solidarity, and my European audience appreciates my coverage of what the [beep] is happening with our formerly closest ally.
How about we massively retweet Trump's own warning, hoping he will listen to himself? #NorthKorea #NKorea #NK — Alice Stollmeyer (@StollmeyerEU)
What concerns me most is Russia trying to undermine Western democracies. Russian interference in elections is not just an issue in the US, but also played a role in the Dutch referendum, in the Brexit vote, in the French elections, in Eastern European countries — and the German elections were to be next. So after many tweets on how this is a problem both for the US and the EU, it was only logical that I would organise a European "March for Truth" in solidarity with the more than hundred Marches of Truth taking place in the US on 3 June 2017. This got me even deeper involved with the American #TheResistance movement — which consists of many groups, such as #GeeksResist, #AltGov, #HeroesResist, #VetsResist and even #PetsResist, to name a few.
Conclusions
Twitter truly connects people, even across continents.
I developed from a European into a Transatlantic digital political activist.
We need a joint, Transatlantic response to Russian aggression.
#Russia trying to undermine #democracies. Need JOINT RESPONSE to Russian aggression! US + EU = #StrongerTogether — Alice Stollmeyer (@StollmeyerEU)
Update
On 8 November 2017, I founded Defend Democracy, an independent, nonpartisan initiative that is working for a Transatlantic response to the Kremlin's hybrid war on the West.