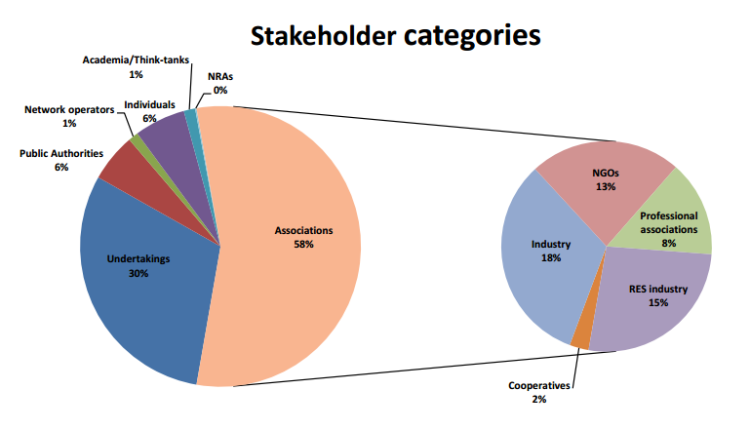 1st results of EU's post-2020 Renewable Energy Directive consultation
As part of the European Energy Union project, the EU Commission held a public consultation on a new Renewable Energy Directive for the period after 2020 (from 18 November 2015 to 10 February 2016). The first results are now in.
The Commission received 614 replies to the consultation:
18% of submissions come from industry associations
15% were submitted by the renewable energy industry
30% were 186 replies directly from undertakings
19 national governments and 22 regional or local authorities also participated
Worth noting: significant participation by individual citizens, energy cooperatives and NGOs
The detailed analysis of the numerous submissions is ongoing, but EU Commission's first assessment confirms broad consensus among respondents on a number of the elements put forward in the public consultation, including:
the need for a stable and predictable EU legal framework for renewables
the importance of defining complementary measures in the new directive to ensure the achievement of the at least 27 % binding target
the relevance of developing a market fit for renewables
However, stakeholders are divided on other issues, such as:
the geographical scope of support schemes
the exposure of renewables to market conditions (e.g. priority dispatch and balancing responsibilities)
Respondents from all stakeholder categories stress the need for a robust legal framework that can replace key features of the current Renewable Energy Directive, such as national binding targets which were considered crucial to achieve the 2020 objectives.
When defining the future legislative framework for the period after 2020, several topics stand out as important for stakeholders, most notably:
Strategic planning of renewable energy at national level required by the EU, which 95% of respondents from across all stakeholder categories consider as important/very important to improve investor confidence.
Member States consulting on, and adopting, renewable energy strategies that serve as the agreed reference for national renewable energy policies and projects (93% of respondents consider it as important/very important).
Yet, national energy strategies should be completed by strong guidance from the EU Commission (78% of respondents qualify it as important or very important) and rely on the best practices identified within the Renewable Energy Directive (for 87% of respondents).
Other highlights
Prevent retroactive changes to support schemes
Develop renewable energy trajectories and policies up to 2050
Develop specific technology relevant trajectories for renewable energy up to 2030
Develop measures to be taken for increasing flexibility of the energy system
Develop measures for achieving market coupling and integration
Having a robust legal framework enshrined in the Renewables Directive is considered key to achieving the at least 27% EU renewable energy target by 2030
Wide consensus amongst stakeholders around measures such as EU-level support to research, innovation and industrialisation of innovative renewable energy technologies (91 % of respondents) and for EU-level financial support to renewable energy, such as, for instance, a guarantee fund to support renewable projects (80 % of respondents are in favour).
Strong support for additional EU action for empowering energy consumers and local authorities
Overwhelming consensus about the need to remove barriers hampering the deployment of renewable heating and cooling
Mandatory minimum use of renewable energy in nearly zero-energy buildings considered important by 67% of respondents and a renewable heating and cooling obligation by 61% of respondents
Improvement of the EU ETS is a major priority for most of the stakeholders to further drive investments in renewable energy
Small-scale renewable energy installations and early demonstration projects should not be subject to balancing responsibilities
Key stakeholders such as Energy Regulators stress the need to keep priority access for renewables especially in case of network congestions
Joint position of European renewables industries
Investment in renewable energy assets in the EU dropped by 18% in 2015 reaching its lowest level since 2006. Retroactive changes in key European markets and the lack of pipeline visibility for the post-2020 period are tarnishing the EU's reputation as a safe investment hub whilst emerging economies position themselves as attractive alternatives. The historic Paris climate treaty, signed by 195 governments in December 2015, gave investors a clear signal that high-carbon assets are not viable in the long run and that the transition towards renewable-based economy should be accelerated. The EU has played a key role in brokering the Paris deal. Yet it needs to translate its climate leadership into domestic policy. To meet COP21 ambition, EU Member States will need to increase their 2030 collective climate pledge and step up renewable energy deployment efforts. The European Commission should therefore propose an ambitious post-2020 renewable energy package that fosters a vibrant home market with clear growth perspectives and asserts the EU's leadership in renewables in the face of rising international competition. The European renewables industry has identified the following ten priorities for the 2016 renewables legislative package which will enable the cost-effective fulfilment of both the 2030 renewables target and the EU's long-term decarbonisation objectives:
A new term for the Renewable Energy Directive
Ensure coherence among different legislative proposals
Make full use of right of initiative to reflect COP21 level of ambition
Establish a binding template for national climate and energy plans
Propose differentiated EU mechanisms for target delivery
Reduce soft costs by addressing persistant market failures and barriers
Ensure that renewable support mechanisms are tailor-made
Reflect new dynamics at decentralised level
Prioritise market design reform
Transpose the new renewable package provisions by end 2020
Document
You can find the document here. If this blog is the first place where you saw this document, then please use the original source when sharing it, that is: this blog. Many thanks!