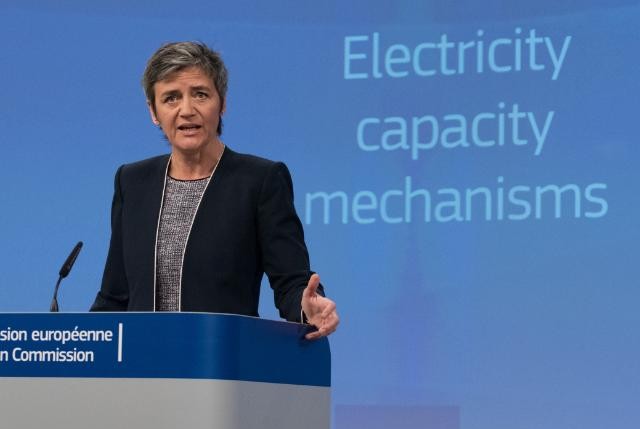 On EU's #PowerProbe & a legal challenge to UK #CapacityMarkets
On Wednesday 13 April the European Commission presented an interim report on its sector inquiry on electricity capacity mechanisms. (On Twitter a.k.a. the #PowerProbe on #CapacityMarkets.) A public consultation on the Power Probe (the interim report and the annexed staff working document) starts as of today; the deadline for comments is 6 July 2016.
The Power Probe will serve as input for EU's new power market design, said Commissioner Vestager at the press conference. She also said that capacity mechanisms should be as climate-friendly as possible. However, this clashes with Vestager (or her team?) seeming to favour capacity mechanisms that are "open" – read: technology-neutral. This means that only 4 months after Paris' agreement, the EU Commission is – again – coming up with strategies to support and extend the fossil fuel era. Once again, silo-thinking in the EU Commission makes that energy, climate, and competition matters are unaligned. Especially after the Paris Agreement, we cannot afford this to continue.
Green MEP and spokesperson on energy Claude Turmes is critical about the EU Commission seeming to promote the UK's capacity mechanism – which is widely seen as a failure (see below).
I welcome @vestager report on #CapacityMarkets but why is @EU_Commission promoting UK type market that is expensive & fossil fuel oriented?

— Claude Turmes (@ClaudeTurmes) April 13, 2016
UK #CapacityMarkets offer taxpayers' money to oil, diesel, gas nuke & coal… Is it compatible with the #EnergyUnion objectives? @vestager

— Claude Turmes (@ClaudeTurmes) April 13, 2016
Legal Challenge to UK Capacity Market
Tempus Energy, a UK energy supplier, is challenging the European Commission's (EC) decision not to open a Phase II investigation into UK Capacity Market (CM), to establish whether the mechanism breaches EU State aid rules. In Tempus' view, the CM policy design is severely flawed, resulting in over-subsidy of existing diesel plant at the expense of demand-side capacity providers, which could otherwise provide cheaper, cleaner capacity.
Since Tempus launched the challenge, the facts have clearly shown that the CM has not achieved the policy objective of providing long-term security of supply at the best value to customers. Only one CCGT plant has come forward (and that is yet to secure funding – see link to Sandbag paper below) and no DSR customer "turn down" capacity has been procured at all. Instead, the CM has resulted in a windfall for existing diesel generators which are polluting and carcinogenic, and which already have a high incentive to generate during times of peak demand when power prices are highest.
This is a 'double whammy' for UK energy customers who have been disadvantaged twice over; firstly because high energy users have been effectively shut out of participating in the CM as capacity providers (which would have reduced energy costs for UK industry), and secondly because ALL customers will now have to pay more for this badly designed, ineffective and overpriced scheme.
Read more
Analysis on UK Capacity Market Results (Sandbag)
UK "capacity market" is not a market – it's state aid (£1 billion/year)
Quotes
"The UK Capacity Market has spectacularly failed to seize valuable opportunities to a deliver an effective, cost-efficient mechanism for securing security of energy supply across the EU. The UK Government should be investing in a joined-up, dynamic system to enable innovative energy companies and large energy customers to lower demand spikes (and total system costs) by reducing demand at peak times. Capacity mechanisms must only deliver long-term security at the lowest cost to customers. Instead, the UK is forcing customers to pay over the odds for a short term, mostly inward facing system which involves excessive subsidy of existing diesel generation. This provides no value for UK plc and throws up yet another barrier for UK innovators and energy intensive industries like steel struggling to compete in international markets, both within the EU and beyond.
It is disappointing and baffling that the European Commission has still not seen the clear need to investigate an obviously flawed UK Capacity Market when it is the first of its kind in the EU to be considered under the new EEAG State aid rules. This scrutiny is of paramount importance at a time when the Commission is pursuing a major competition inquiry into national Capacity Mechanisms within other EU Member States."
Sophie Yule, General Counsel, Tempus Energy