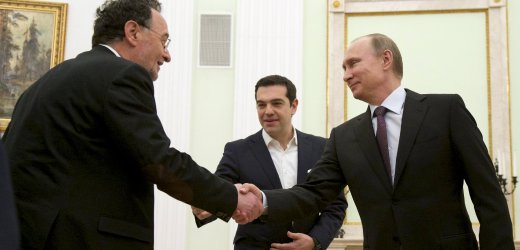 #Russia denies #Greece rumours on advance payment for #TurkishStream
For what Russia's words are worth these days: reacting to rumours in Der Spiegel (17 April 2015), Putin's spokesperson today (18 April 2015) denies there is a deal with Greece on advance payment of up to 5 billion euros for a possible gas pipeline project called Turkish Stream.
Background: Turkish Stream is qualified by the European Commission as 'not viable' and think-tank Bruegel's analysis shows that a possible deal on natural gas cooperation will hardly have any structural impact on the Greek economy.
Russian denial Google translated:
No agreement to provide Greece 3-5 billion euros
'On the eve of the German edition Spiegel citing a senior source in the ruling Greek party SYRIZA said that Russia and Greece are planning to sign an agreement under which Moscow will allocate Athens as an advance payment for gas transit to five billion euros for the construction of the gas pipeline "Turkish stream."
MOSCOW, April 18 – RIA Novosti. There is no agreement with Greece to be granted an advance of 3-5 billion euros, said presidential spokesman Dmitry Peskov. Earlier, the German magazine Spiegel, citing a senior member of the party SYRIZA said that Greece and Russia intend to sign a bilateral agreement, under which Athens as an advance payment for the construction of the gas pipeline "Turkish stream" can get up to five billion euros.
"
No it was not. (Russian President Vladimir) Putin himself said
[at the 8 April] press conference that
no one spoke
 [of Russia financially helping Greece] . Of course, the issue of energy cooperation was raised. Of course, at the end of the summit talks agreed that at the expert level held study all issues related to cooperation in the energy sector, and Russia is not promised financial assistance because no one asked her, "- said in an interview with Radio Sands
Business FM
on Saturday.
Russia in early December announced the failure of the gas pipeline project "South Stream", which should pass under the Black Sea and through Bulgaria to deliver fuel to the Balkan republic and Hungary, Austria and Italy. The project was abandoned including the non-constructive position of the European Union. Instead, it was decided to build a gas pipeline to Turkey and build on the border with Greece gas hub for Southern European consumers.'
Update 18-04-2015: Reuters has more details.
Update 20-04-2015: EurActiv follow-up.