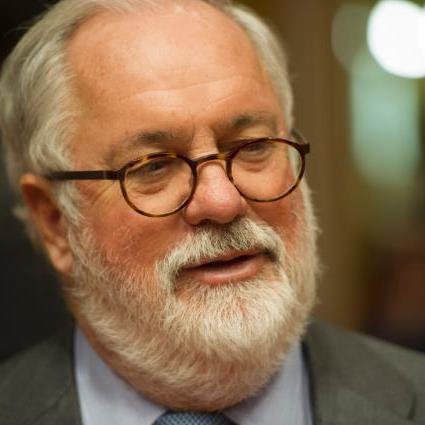 Energy interconnections in Europe. The role of Spain [speech Commissioner Canete]
EU Climate & Energy Commissioner Canete held a speech in Spain today. As the speech is only available in Spanish but many people may be interested to know what he said, I decided to Google-translate it for you.
Energy interconnections in Europe. 

The role of Spain

March 16, 2015

Miguel Arias Cañete – European Commissioner for Climate Action and Energy

Madrid

Ladies and Gentlemen,
First I would like to thank you for your invitation to speak here today. The level of the speakers this morning demonstrates the importance of the Trans-Adriatic Pipeline (TAP) for Europe as a whole.

And this presentation is right place at the right time. A few weeks ago we propose our vision of an Energy Union based on energy market truly integrated, competitive and interconnected.

In addition, earlier this month I had the honor of witnessing with President Juncker, the Rajoy and Hollande Presidents and Prime Minister Passos Coelho, the signing of an historic agreement, declaration of Madrid, which aims to put a definitive end to isolation of the Iberian Peninsula from the rest of the internal energy market.
Today I want to talk about the context in which it is framed what we have seen here this morning.

To do this:

1) First, I want to explain why the security of supply occupies a central place in the overall project of the Energy Union.

2) Second, I discuss the importance of improving gas interconnections within the EU, particularly in relation to the security of gas supply and what we have already achieved, and:

3) Finally, I want to explain how we will continue to improve the framework for investment in infrastructure to help you, the industry, to do their job – build the skeleton of a real Energy Union.

Security of supply


Ladies and Gentlemen,

Security of supply is an issue that affects us all Europeans. Clearly there are Member States that are dependent on a single supplier, with all the negative economic and political consequences that entails. Therefore, we must work seriously to reduce our energy dependence on Russia.

The gas supply problems in a country of the European Union are a problem for the whole entire European Union.

Therefore, and in order to enhance our security of supply, we need to ensure that the portfolio of suppliers both at community and state level is sufficiently diversified.

The diversification of sources, suppliers and routes is essential to ensure a secure energy supply, and consequently, that European citizens and businesses have access to energy at affordable and competitive prices.

Regarding the gas market, this diversification should focus on the diversification of suppliers and routes as a fundamental requirement of our security of supply. We must be aware, in this sense, that we will continue to use a significant amount of gas in Europe in the future. And therefore, diversification of routes and suppliers must be a priority of the Energy Union.

But supply security also involves reducing our energy dependence and increase the diversification of energy sources.

In this sense, renewable energy and energy efficiency measures will be key to greater security of supply, increased competitiveness and greater sustainability of the European energy system.

Ladies and Gentlemen,

Focusing on the topic at hand, ie the gas, would like to give some concrete examples of what we will do next in the field of Energy Union to achieve a more secure supply of gas.
This year we intend to strengthen our framework for security of gas supply by revising the regulation on security of gas supply.
The endurance test last year has shown that there is room for improvement. We have forced the Member States to be prepared for emergencies, but we have not been able to force them to cooperate sufficiently in these cases and to assist in your planning. However, we must ensure that in an emergency, Member States can rely on their neighbors. All our evaluations show that this creates a win-win situation. Therefore, this initiative must be based on the principle of solidarity between Member States.
We also will work to achieve greater transparency in the supply of gas.

This mainly concerns our rules on intergovernmental agreements.

Here our main goal is to help Member States to ensure that they comply with the rules and principles of the EU before signing.

We do not want to meet in the future obliged to tell the Member States to a contract already signed with a third country must be renegotiated because it conflicts with our rules regarding the operation of the internal market and competition law.
Do not forget that this is an Energy Union and we have to find a way to speak with one European voice with third countries.
We will also develop a comprehensive strategy for LNG and storage to ensure their transport to our shores.

This involves the construction of a necessary transport infrastructure for better ties with the internal market.

We believe that economic figures will evolve favorably LNG – and if this is the case, it pays to build infrastructure-sighted.

Similarly, we will try to remove barriers to imports of LNG from the US

and elsewhere.
Finally, we want to revitalize our energy diplomacy and improve our international dialogues with all key strategic partners, such as Algeria and Turkey;

Azerbaijan and Turkmenistan;

Middle East, Africa and other potential suppliers East.
And to support these objectives we will support Member States to get access to alternative suppliers through the implementation of specific infrastructure projects.
This includes our project the Southern Corridor, which will allow the countries of Central Asia to export its gas to Europe. The opening of the southern corridor will require the construction of complex and expensive pipelines, as the Trans-Adriatic pipeline, the Trans-Anatolia pipeline and expansion of the South Caucasus gas pipeline. And we are committed to supporting its construction.
TAP is one of the most important energy infrastructure projects we have on the table. It will allow the Caspian natural gas to flow into the energy markets in Europe where gas plays an important role, helping to diversify our suppliers and making our products more competitive and secure supplies.
As you well know, only the initial capacity of TAP – 10 billion cubic meters of gas a year – equivalent to the energy consumption of approximately seven million households across Europe! It will have a real impact very important and I would like to thank all their efforts to take it forward.
 Interconnections
Ladies and Gentlemen,
Before explaining the importance of improving interconnections to our draft Energy Union, I would like to emphasize the importance of developing such projects across Europe.
If we were able to eliminate the internal borders of the EU for citizens, goods, capital and services to move freely, we must also be able to eliminate energy borders in Europe, and this happens to be sufficiently interconnected.
Our first step, therefore, should be to build the skeleton of cables and pipelines necessary for Energy Union.
The development of this infrastructure will enable us to improve security of supply through an internal energy market to function properly, allowing the smart use of energy and integration of renewable energy.
Energy islands remain in the EU, and many markets are still not properly connected to its neighbors.This only increases costs to those faced by consumers and creates vulnerability in terms of energy security.
There has been talk of the need for better interconnect multiple times. We are all familiar with it. So I'm delighted to see that this view is shared at the highest political level by France, Spain and Portugal, as indicated in the Declaration of Madrid.
As the Minister, José Manuel Soria, said in Madrid: an interconnection between Spain and the rest of Europe would reduce Europe's vulnerability to crises of security of supply.
Spain, France and Portugal are committed to strengthening an eastern axis of gas to ensure delivery across Europe. And this is something very important to reduce the energy bill of consumers in the Iberian Peninsula, which is 40% higher than in France!
The President Juncker said in Madrid a new regional HLG to improve interconnectivity in southwestern Europe, and this summer will present its action plan.
The Group will analyze the feasibility and compatibility of major interconnections in the next six months, together with an assessment of energy needs as part of a comprehensive study of the gas infrastructure projects.
This work will promote the implementation of projects of common interest in the region to address the relative isolation of the Iberian Peninsula from the rest of Europe.
We fully support the MidCat project, scheduled for 2020, linking northern Spain and southern France.Your success will require the strengthening of internal gas networks, mainly in France, and closer cooperation between transmission system operators.
We will support the third interconnection between Spain and Portugal and the Val de Saône project, both planned for 2018 with the goal of better access to the European gas market to the Iberian Peninsula.
We want to turn the gas interconnection between the Iberian Peninsula and the rest of Europe in a real Iberian Gas Corridor.
I would like to stress that we are using this successful model of regional cooperation is also reinforced in other parts of Europe where energy energy isolating a problem. We have already begun an initiative of regional cooperation in Southeast Europe to create gas supply options; and we are also pursuing a better integration of the Baltic States into the European energy system in the context of BEMIP group.
All these projects are not merely ad hoc isolated actions, but follow a global strategy. It is no coincidence that along with the document of the Energy Union have published a Communication specifically dedicated to the electrical interconnections.
This is a clear demonstration that this Commission is serious about developing infrastructure links that will make the Energy Union physical reality.
Investment in infrastructure
Ladies and Gentlemen,
We all know that energy infrastructures often or not constructed or substantially delayed due to lack of cooperation, lengthy licensing procedures and lack of adequate funding.
Therefore, the example of regional cooperation involving the TAP is a model for the rest of Europe and one of the most important projects requiring the greatest support by all.
Which brings me to my third point: how can we improve the framework for infrastructure investment in Europe?
The Regulation on guidelines for trans-European energy infrastructure which entered into force in 2013 provides some measures to overcome these problems. And the 5,800 million euros of the Connecting Europe certainly accelerate the implementation of projects of common interest in the coming years.
We have already made significant progress in building that infrastructure. The 248 energy infrastructure projects of common interest (the famous PCIs) include many gas related across Europe. We will review and update the list later this year and thereafter every two years.
The TAP is one of those projects of common interest whose importance for Europe is more than evident. To give us an idea, the criterion for choosing a PCI is to provide significant benefits for both Member States – and TAP goes much further.
The TAP was chosen because it opens the Southern Corridor, one of 12 so-called "priority corridors", selected by the EU as priority projects.
Being on the list of PCIs help the TAP, and the other 247 projects to accelerate the granting of necessary permits and licenses and to improve regulatory processes.
All this is important to expedite the implementation of infrastructure projects in many cases authorization procedures opens too in time. Therefore, we have required Member States to introduce one-stop procedures for authorizations.
In addition, cross-border projects require cooperation between the authorities of all Member States involved. Or put another way, clear rules are needed to share the costs and benefits fairly. We have established these standards in our regulatory framework and must now be consistently applied. All projects of common interest need based on cooperation between Member States approach.
This will help Spain and other countries to integrate energy markets to diversify its sources of energy, and ending the energy isolation of some regions.
The goal is for each Member State has potential access through the infrastructure to at least three different sources of gas.
To monitor progress will periodically evaluate the implementation of TAP and other major infrastructure projects that contribute to the Energy Union.
Also, we will convene an Energy Infrastructure Forum dedicated to discuss progress with the Member States, relevant groups of regional cooperation and the EU institutions. This forum will meet for the first time in late 2015.
But this is only a first step if we have adequate infrastructure to late. Our strategy is based on better use of existing instruments such as the Structural Funds and the Connecting Europe. The future European Strategic Investment Fund (EFSI) -or the Juncker Investment Plan, as perhaps you know you-will likely become an important tool to support infrastructure.
The European Strategic Investment Fund seeks to mobilize resources, encouraging public-private investment financing the real economy of at least 315 billion euros over the next three years.
But these projects not only need funding. The cooperation between a number of different actors, both governmental sector is indispensable.
It is important to provide the tools and platform to discuss and address all the other problems that may arise during the implementation of these projects. A great example is the recent creation of the Advisory Board of the Southern Corridor, which met for the first time in Baku on 12 February 2015.
Conclusion
Ladies and Gentlemen,
When this Commission took office, President Juncker promised to take a greater role and a more ambitious vision on the things that mattered. And the creation of an Energy Union that provides secure, sustainable and affordable energy for Europe is very important for all nosotros.Lo I've heard and seen today is the Energy Union in action.
The work they are doing with the TAP will fit the pieces of the cross-border links. A European energy market well connected is crucial for the creation of an Energy Union, and a key to strengthen the security of energy supply in Europe engine. I thank you for making this project a reality.
Let me finish attesting that political will is clear in this region and the EU. The investment is now available through the PIC, the Juncker Plan and other funds for projects with greater potential. And the actions that take place to support all this work have been clearly defined in the plan of the Energy Union.
I congratulate you again for progress with TAP, I encourage you to continue on this path and I thank them for their support.
SPEECH / 15/4606
Source here.