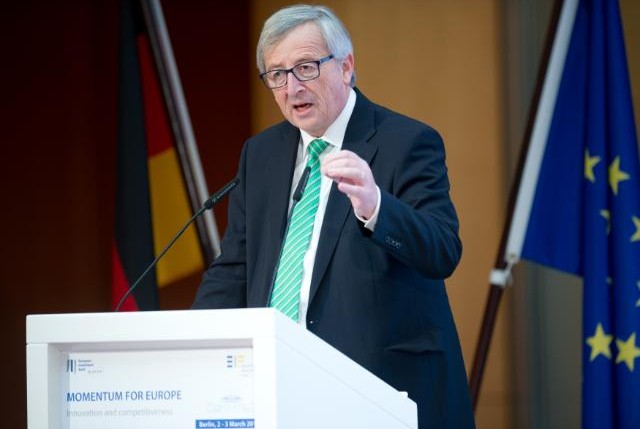 President Juncker on the EU #EnergyUnion
EU Commission President Jean-Claude Juncker gave a speech in Berlin on 2 March. This is what he said about the European Energy Union. I used Google translate and then made improvements; emphasis mine.
"The Commission last Wednesday put its proposals regarding the Energy Union on the table and has done so for good reason. One should look at the overall energy situation in Europe in silence and not admiringly. Policy begins with the observation of reality. […] The fact is that the dependence of the European Union, from the point of view of energy policy, costs us per year, costs the European economy 400 billion euros per year; more than 1 billion per day. Will it stay that way? This cannot continue. We have to get out of this dependency trap, regarding the European energy supply. Six states of the European Union are 100% dependent on a single gas supplier. I need not point out which flag reflects this singular energy supplier to the European Union here. For transport in Europe we are 94% dependent on oil. Do we want to keep it that way, or don't we think – even regardless of climate policy considerations – that we have to correct this?
To German industry I do not need to point out that electricity prices are 30% higher in Europe than in the US. The European steel industry can not endure 30% higher electricity prices permanently, so we have to change that. The price of gas is twice as high in Europe than in the United States. Do we want to keep it that way? Or do we want to work hard together to make this change? Europe knows 28 energy regulators, the United States one. China one. Japan one. Do we want 28 divergent regulatory powers to regulate the European energy market – that is actually "counter-regulate" – or would we not like to have a single institution or at least a single thinking determining the regulatory turmoil in Europe?
There is little cross-border energy supply in Europe. Between core European countries there are no power connections. I am in Madrid on Wednesday, to overcome the Pyrenees energy politically with the French President and the Prime Ministers of Portugal and Spain. Portugal is located on the periphery of Europe, Spain is located between France and the extreme periphery of Europe, and there is no adequate energy link between France and the Iberian Peninsula. We have to do this and therefore we also suggest proposals, which we need from an energy policy point of view, for combined infrastructures in Europe, especially as regards the southern gas corridor. And we do need energy supply from Algeria. We live in a crazy world. There they have the sun, and here there is demand for energy. What is a Europe that does not consider both strands? So we must – this is also important – for our cooperation with North Africa, strengthen our common energy policy, which we also support with the investment plan."